Detroit Diesel 14L: New Piston Design
Detroit Diesel has released a new piston design for use in current and older model Series 60 14L diesel engines.
New Piston Design:
The new piston has a longer skirt and a new design to the 2nd compression ring. The new piston (P/N:23537126) has a skirt length of 65.3 mm compared to the old piston (P/N:23533282) skirt of 57.3 mm.
The 2nd compression ring has been changed from a keystone design to a rectangular design. A new ring set part number has been created to service the new piston design (P/N:23537529).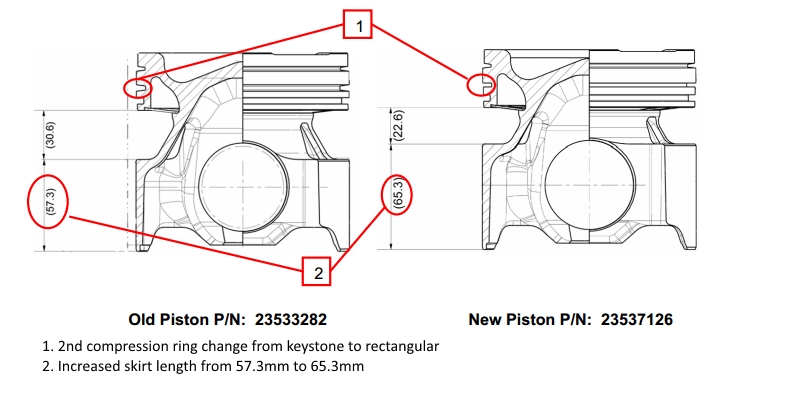 What About the Old Piston Design?
The old piston design has not been superseded to the new piston. The older style will remain a serviceable part.
The pistons are not inter-mixable in the same engine application due to weight differences. If the pistons were inter-mixed, an engine vibration may result.
Do you need to replace your Pistons? Call one of our on staff ASE Certified Technicians for help with any technical questions you have in regards to the Pistons in your engine!
Give Us A Call!
Remanufactured diesel engines will come equipped with the new pistons installed. Overhaul engine kits purchased from Detroit will also include the new pistons.

Originally Posted December 4, 2014; Edited February 7, 2020