Increase Profits With Remanufactured Diesel Fuel Pumps from HHP!
When your engine is down, we know you want to get it back up and running as soon as possible. Highway & Heavy Parts has you covered! We've got the best quality parts at the best prices to get your engine performing like it should, saving you time and money!
Today, we're taking you through some of the reasons why a remanufactured fuel pump from HHP can help save you time and increase your profits. We're here to help!
We can help you get the best fuel pump for your diesel engine. Call our ASE Certified Staff to get the replacement parts you need!
Give Us A Call!
Has Your Diesel Fuel Pump Failed?
Fuel pumps are complicated components, but buying one doesn't have to be! At HHP, we take the risk out of buying parts!
With the many moving parts involved in your diesel fuel pump, there are a lot of opportunities for failure. The main culprit behind these failures is poor quality or contaminated diesel fuel. Clean diesel fuel and proper fuel system maintenance are critical to keeping your diesel engine running at its peak. A lack of proper fuel system maintenance and the use of contaminated diesel fuel can wreak havoc on all the sensitive fuel system components, leading to expensive repair costs.
So, how do you know if your fuel pump is behind your diesel engine trouble? Some common symptoms include:
Rough Running
Hard Starting
Engine Misfires
Engine Stalls
Overall Loss of Engine Power
Excessive Exhaust Smoke
Unusual Engine Noises
Want to know more about fuel pump failures? Read our post, Diesel Engine Fuel Pumps Explained.
What Makes Fuel Pumps From HHP So Great?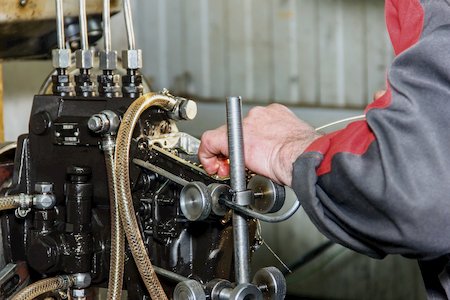 When these symptoms are affecting your engine's performance, putting your livelihood at risk, you want quality replacement parts you can trust. You want to know that the problem will be fixed quickly and for a fair price.
Highway & Heavy Parts only sells diesel fuel system components that are built by reputable, OE-certified manufacturers, using the latest OE-approved diagnostic, calibration, and testing equipment available. This gives you added peace of mind, and ensures that your diesel fuel pump is manufactured to meet or exceed original OEM specifications. Not only that, it will be the same fuel pump your engine was built with. With upgraded OE components, it might actually be better!
Are you running a John Deere? Check out our post on fuel pumps for John Deere engines!
With a fuel pump from HHP, you'll be getting reduced noise, higher torque, lower emissions, and better fuel economy than you would with a lesser quality pump from a non-OE supplier. This, combined with a price that's a fraction of a new OEM dealer part, an industry-leading 1-year warranty, technical expertise from HHP's ASE Certified staff, and fast shipping, and you've got a quality fuel pump that will get you back to work fast and keep your engine running right for a very long time.
These fuel pumps:
Are built to meet or exceed OE performance and durability
Have all wearable components replaced with new OE parts
Are remanufactured with upgrades to components and OEM specs
Meet emissions requirements
Are produced and tested using the latest OE equipment and technology
Have improved fuel economy and higher torque
Provide higher engine performance and quieter running
When your pump is down, you don't have time to wait for a sub-par pump that takes forever to get to you and costs more. Let HHP help you!
When you order a pump from HHP, you'll be getting:
Genuine OE replacement parts
Parts that meet or exceed OEM specifications
Expert advice from ASE Certified Technicians
Free core returns
Huge inventory for one-source shopping
Fast and easy ordering—call or shop online
Fast shipping
Nationwide distribution centers
Prices that are a fraction of what OEM dealers charge
An industry-leading warranty
So, if you need a replacement fuel pump for your diesel engine, Highway & Heavy Parts can help get you back up and running fast!
Fuel pump giving you trouble? Give our ASE Certified Techs a call at 844-304-7688 to find the best fit for your engine. Or, you can request a quote online.